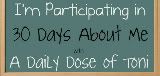 It's Day 28 of the "30 Days About Me" fun we are having. Today is very simple, What's In Your Bag? For us ladies it can be your purse, diaper bag, computer bag, backpack,etc. For the men share what's in your computer bag, or backpack...
I love my pocketbook. (And yes here in the south we call it a pocketbook or at least in NC we do...haha). Last year when we went to Chicago, I'd just bought a Thirty One pocketbook a few weeks before our trip. I told my husband that I just wanted to shop some when we were in Chicago. Well, we passed a bag store. There were more bags in there then you could imagine. And they had anything from suitcases to actual pocketbooks. Anyhow, yes I did buy a pocketbook and I love it...I've carried it all but maybe three or four months since last October. Anyhow, in my bag I have:
my wallet
a small zipper pouch for pictures and store cards
a zipper pouch full of pins (if they leak they aren't getting in my bag)
my meds
lotion
a book (always!)
gum
candy
a mirror my mom bought back from a mission trip for me
fingernail clippers
chap stick
headphones (for listening to my iPod when I want)
That's it...As if that's not enough! haha. And I'm sure I'm forgetting something! But you get the picture...Hum...Maybe I should clean it out and switch purses. We shall see...