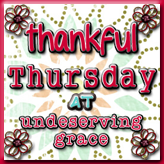 Today's Thursday so that means it's Thankful Thursday...Here's my thankful list...
Mt. Dew - sounds silly but that stuff is so good!
Reading other people's blogs...I love reading other people's blogs and "seeing" their takes on life
Music - It drives my husband crazy but I love music and majority of the time I'll have music playing (instead of the TV) and it's usually 90's music or Christian
Rain - although it misses my house somehow a lot here lately and goes right around it, God sends it when we need it!
My Chubby - he's my cat and I love him...
What are you thankful for????