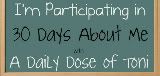 30 Days About Me Day 10: Photo Then and Now
Welcome "30 Days About Me" participants. Today we are traveling back in time only to come right back. Today's task is a photo of you 10 years ago and one from current time.
I have a bit of an issue. 10 years ago I was 18 and I wasn't on the computer as much as I am now. BUT the next best thing that I have is one that's from probably 7 or 8 years ago. This was right after my husband, Jamie, and I started dating. And we've been together 9 years in April. So here it is... (sorry it's on the smaller side)
And here's one of us currently...This was taken on our wonderful cruise right before Jamie realized the tux mishap!
So lets see your then and now pictures! :)