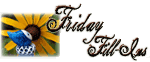 1. The only question is
when you get the chance are you going to take it? (from The Lost Get Found by Britt Nicole)
2.
Washing clothes
in one day.
3. Three things on my desk:
well I don't use my desk but there is a printer, papers, and pens on the desk that is in the den.
.
4.
Spend some time with God
is the one thing I HAVE to do today!
5. I love playing with
my hair...haha...Twirling it that is.
6.
Some smells
overwhelm the senses.
7. And as for the weekend, tonight I'm looking forward to
going to a wedding
, tomorrow my plans include
rest, relaxing and laundry
and Sunday, I want to
church, family and napping
!
~*~*~*~*~*~*~*~*~*~*~*~*~*~*~*~*~*~*~*~*~*~*~*~*~*~*~*~*~*~
Here's the question this week.....
"Let's talk crazy book titles! Highlight one or two (or as many as you like!) titles in your personal collection that have the most interesting titles! If you can't find any, feel free to find one on the internet!"
I just have one to list on this one...Shocker I know but the one I wanted to list is....
Info that Goodreads.com provides -
Now fans of the delightful The True Story of the Three Little Pigs can hear the story read aloud in inimitable style by Jon Scieszka. Side one features a reading of the story accompanied by music, while side two offers a toe-tapping original soundtrack by composer Kurt Hoffman.
When I was in school for my Early Childhood degree I was in one class where each week the teacher would read a different children's book. It was one of the coolest things in school. This is one of the children's books that she read and I remember thinking I need that book. So I've already got Maddie a copy of it. You need to read it.