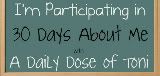 Day 19: Talents & Hobbies
Today is all about Talents and Hobbies, just one of the days and topics in the 30 Days About Me. So here are my talents and hobbies...(of course they'll be in list format)
Reading is definitely one of my hobbies...I love to read...It takes you to a different world!
Blogging...UM who would have thought?
Crocheting is a talent of mine. Like I've posted before, I may not be able to follow a pattern but I can create my own and make a blanket to keep you warm through the winter!
I can organize well I reckon would be a talent.
I use to scrapbook and would love to get back into it, especially after Maddie is born. But all of my scrapbooking materials are at my Mom's house and I have no where for it really at my house so I go there to do it!
That's gonna be it I think...HUM...What are some of your talents and hobbies???