So I found a blog today that was doing this 30 Days About Me and I thought I wanna do that. So I decided I would. The original idea came from: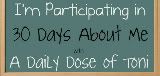 So since I'm starting about 4 days late for the month of August my 30 days will go into September. But it should be fun to do anyhow. So come back to read more...
Now without further ado here are the prompts:
Day 1- Favorite Song
Day 2- Favorite Movie
Day 3- Favorite Television Show
Day 4- Favorite Book
Day 5- Favorite Quote
Day 6- Most Treasured Item
Day 7- A Photo That Makes You Happy
Day 8- Something You Hate
Day 9- Something That Makes Your Life Easier
Day 10- A Photo Taken Over 10 Years Ago of You & A Current One
Day 11- Favorite Band/Artist
Day 12- Something you are OCD about
Day 13- Something or Someone that has had a huge impact on your life.
Day 14- Somewhere You'd Love to Travel
Day 15- Describe Your Dream Home or show us a picture
Day 16- Who Do You Do the Most Crazy Things With OR What is the Most Crazy Thing You've Done?
Day 17- Your Biggest Insecurity & Something About Yourself You Are Proud Of
Day 18- Wedding Talk (share stories, photos, both, anything having to do with your wedding, the one you had or the one you dream of)
Day 19- A talent/hobby of yours
Day 20- Something you wished you could forget
Day 21- A recipe you love
Day 22- Some of Your Favorite Websites
Day 23- Something you love to watch on youtube (or better yet a youtube video of yourself)
Day 24- Where You Live? Tell us or show us about where you live
Day 25- Who is/are your best friends?
Day 26- Favorite clothing store.
Day 27- Worst Habit
Day 28- What's in Your purse, backpack or computer bag?
Day 29- Who Has gotten you through the most?
Day 30- A dream for the future beyond the next year…think long term
Would you like to take part too?? Feel free!