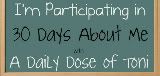 30 Days About Me Day 13: Something/Someone That Has Impacted Your Life
Today is "Day 13" in the 30 Days About Me and I'm supposed to tell you about something/someone that has impacted your life. So here's my list (you didn't think I was just going to post one thing did you?!) And these are in no particular order...
My Parents - that's an easy one...the love and affection they have shown me growing up is amazing. Plus they were the first people to show me God's love and how amazing He is. My dad, Beau, is a pastor and a wonderful man of God. He has shown me how a man is supposed to treat his wife by taking care of my mom throughout their marriage but I've seen it more and more in this past year. My mom, Debbie, is an amazing woman of God who even when she was diagnosed with breast cancer she didn't ask why but why not. She once told me that someone had to get it and why was she better then anyone else to not get it. That God has a reason that he does everything and we have to trust Him always. Just all around my parents are pretty spectacular!
Jesus - he saved my life by giving his. That's a pretty major impact!
My Husband - Jamie is pretty amazing. He takes care of me and loves me even with my pregnancy hormones ragging at him at times he's always loving and cares. He'll be a wonderful daddy to Maddie as well, I can see it in his eyes. Jamie would support me in anything and everything that I could ever want to do. Oh and have I mentioned that he can cook?! Well, he can, and he's an AMAZING chef. Makes some yummy food let me tell you!
So there's my list...What is something or someone that has impacted your life?