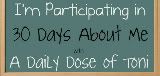 30 Days About Me Day 21: A Recipe that You Love
So I have a bunch of recipes that I love but I'm just going to post a link to them cause I've blogged about them before :) So pick a link and click it! Then cook/bake it!
So there's my favorites :) Enjoy!!!
What are some of your favorite recipes??