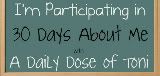 30 Days About Me - Day 3: Favorite TV Show
TV is pretty limited at my house right now because we do not have Dish, Direct or Cable or anything. All we have is an antenna and a TiVo to record shows on. So my list tonight is going to be somewhat confined.
LOST - we just recently started watching this back in like March or April on Neflix Instant. I'm glad I don't have to wait like people who actually watched it when it was on air!
Parenthood
Days of Our Lives - watched it all my life
Teen Mom - I liked it when we had MTV
Hell's Kitchen - it's all drama and my husband says that's not the way it is in a real kitchen
48 Hours
Dateline
Those are just a few...So...the daily question....
What is your favorite TV show???