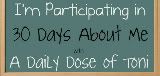 Day 17: What Makes You Insecure? What Are Your Proud Of?
Ahhh...list....Here they are...
Insecurities...
My weight before I was pregnant I was very insecure about my weight...When I was little I had no problem with my weight and I was ALWAYS told that it'd catch up to me and it sure did...It's not overly bad and right before I became pregnant I was trying to lose weight but it's a battle...
My looks...I've always wanted to be prettier and less akward.
Being in a new situation...like a new job, school, group setting, etc...
That I won't raise Maddie the way she should be, although I'm going to try my hardest!
That I won't be a good wife for Jamie always...
That I won't be as good of a Christian as I can be...
God's in control of all of those insecurities and he made me just like I am for a reason...I'm fearfully and wonderfully made (by Him)!
Things I'm proud of...
My writing...I can physically write beautiful. I was an only child until I was 13 and I use to practice writing all the time.
I can crochet, although I can't follow a pattern I can still make a blanket that will keep you warm in the winter!
I'm good with children. I pick around with people at work that I'm the "mean" teacher but in reality I just don't put up with much junk from the children. haha.
I am a child of God!!!!!!