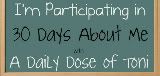 30 Days About Me - Day 5: Favorite Quote
Today is your favorite quote...And I only have one for today... :) Although I like other quotes this one is my all time favorite...Enjoy...
I don't know what I've gained from loving you, but the need for anyone else is what I've lost. - Roo McKuen
So, what's your favorite quote??