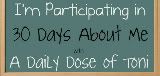 30 Days About Me - Day 4: Favorite Book
Now this is really a loaded question...Are you ready to read a book just to get all of my favorite books listed?? haha...Just picking. I'll try to narrow the list down somewhat so you won't be here reading for days. But if you've ever read my blog before you know that I love to read and if this is your first time reading my blog then now you know. I always carry a book or my nook (better known as Herbie) around with me in my purse. I don't particularly fancy any genre over the other one, so if you know of a good book I need to read then please, please leave me a comment letting me know. So without anymore rambling, here is a list of my favorite books....
Trylle Trilogy (Switched, Torn, & Ascend) by Amanda Hocking
Christmas Jars by Jason F. Wright
Eve's Daughters by Lynn Austin (Love this author and I've read all of her books as of now)
Hold Tight by Harlan Coben (I liked all his books other then the Myron Bolitar Series)
Eyes of Elisha by Brandilyn Collins
My Hand Came Away Red by Lisa McKay (an ABSOLUTE must read!)
My Sister's Keeper by Jodi Picoult (Again, another author that I love and have read almost all of her books)
The Pact by Jodi Picoult
Jenny Pox by J.L. Bryan
Chronicles of the Kings Series by Lynn Austin (these books give a fictional look into some of the Bible and they are so good)
Unwind by Neal Shusterman
Hunger Games by Suzanne Collins
Flowers in the Attic by VC Andrews
The Time Traveler's Wife by Audrey Niffenegger
Twilight Series by Stephanie Meyer (Although Breaking Dawn was my favorite in the series)
Uglies Series by Scott Westerfeld
False Memory by Dean Koontz (I wanna re-read this so I can write a review on it)
Whew...Is that a compacted enough list for ya? I've got a few other books that I just like. I currently catalog what I read and keep track of all the books I have read on www.goodreads.com. I also review them there and I'm very stingy with my 4 and 5 stars. Any of these books that I've listed above are at least 4 or 5 stars. Anyhow, It's a wonderful site and you can see my other books if you find me there.
So what's your favorite book(s)???