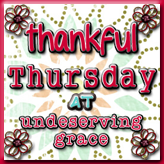 This week I have much to be thankful for...And I decided to go ahead and post it even if it is still Wednesday for a few more hours...
My salvation - I don't know where I'd be if I didn't have God to comfort me during this time. I'm sure I'd be worried out of my mind. But thankfully I do have God and he is the greatest comfort I can ever have.
My parents - they love me and would do absolutely anything for me, I know it!
My in-laws - they are pretty awesome to Jamie and I!
My best friend Erica - there I mentioned you...haha...just picking...I love the way we "met" and became friends and I love that we're still friends!
The outpouring for prayers and love just for Maddie and I. I don't think I've ever felt so bathed in prayers before...it's an amazing feeling...
So what are you thankful for on this Thankful Thursday??