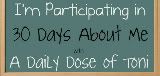 30 Days About Me Day 9: Something that Makes Your Life Easier
There are many different things that make my life easier then most people have it. And here's my list...
Running water: so thankful that I can drink water, take a shower, and wash clothes all in the comfort of my own home.
My iPhone: it helps me keep in touch with others even if it is just playing Words With Friends, since I'm not a phone talker.
My computer: the internet is a wonderful thing! So are the word and excel documents that help my OCD!
My Bible: last but not least. Without this I would be missing something in my life that is so important. I love how I can pick it up at any time and read God's word and find out what He thinks.
So what's something that makes your life easier?