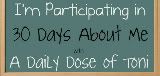 30 Days About Me - Day 2: Favorite Movie
So today in the 30 Days About Me, I'm supposed to post what my favorite movie is...That too, like yesterday, is a tough choice. I have just a few different favorite movies so I'll just list them...
Cinderella (ALL time favorite)
All Dogs Go To Heaven
Shrek - all of them
The Time Traveler's Wife
Hitch
Twilight
I'm sure there are more but these are just a few...I'm a kid at heart that's why all the children's movies. :)
What's your favorite movie?