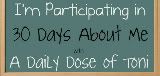 Today is Best Friend Day in 30 Days About Me...So are you ready for my list and reasoning why??? Here it is...
Jamie (my husband) - simply put he believes in me. He is an amazing, God-fearing man who loves me and believes in me like none other. And he's my baby daddy! :) hahaha
Debbie (my Momma) - she too believes in me and has always, always, always, (okay I'm only 28 years old) loved me more then anyone else. She's stood by me even when I was a bratty little child, teen and even now. I hope Maddie always knows how much I love her just like I always know how much my Momma loves me.
Last, but not least....Erica (my Stalker) - it's a running joke with us that she's my stalker and I'm her's. If you read in my previous post a few days ago you'll read how Erica and I came to be friends. But I know Erica believes in me and loves me for the crazy, stalkery, nerd that I am. I can tell her what I think and not be scared of how she takes it. I can go without talking to her for a few days and we will pick up right where we leave off. I'm glad she's my friend and God blessed me with such an awesome best friend!
So there's my best friends...