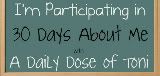 30 Days About Me Day 15: Describe/Show Your Dream Home
It's Day 15 of the "30 Days About Me Series" and today it's all about dream homes...HUM....
I want a house that's full of love. I'd love a wrap around porch and it to be ranch style. I'm much for stairs. BUT hey, it's my dream house so if I did have two stories then I could have an elevator. Right?!
I'd like probably about four bedrooms each with their own bathroom. And each bathroom would have a tub in it and a separate shower. I'd also like to have a room for scrapbooking and crocheting stuff just for me. Also a room with nothing but book shelves and a big comfy chair close to the window for reading. I'd love to have Jamie be able to create his dream kitchen. I'd also have a formal and informal dining room. One for when guest came over (like Thanksgiving and Christmas) and then the other would be for everyday use. I'd have a room just for Jamie to watch football and then also a living room for the whole family to watch TV. I'd have a play room for the kids. I'd have a HUGE laundry room. I'd also have a garage for our cars. With this house would come a maid and a grounds keeper who would keep the lawn in perfection. And would be able to teach me a thing or two about flowers. We'd have a pool but it wouldn't look like a regular pool. And it would be inside. Because where I want to live at I'd like it to be cooler weather majority of the year (like 10 out of 12 months). And I would have a ton of land around my house so that houses wouldn't be touching each other!
So there's my dream house...Can you make all that work for you?? haha...
What's your dream house look/sound like???