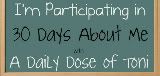 30 Days About Me Day 7: Photo That Makes You Happy
It was hard to chose just one but here it is...Okay so I picked two! I couldn't pick between them...
(Top) A picture of my husband and I dancing at our wedding recipetion. One of my favorite pictures from our wedding. Simple and beautiful. We were married November 09, 2007 - almost four years ago.
(Bottom) Madelyn Rae - due 11/28/11 - Hard to believe that she was 18 weeks here and now I'm 24 and the amount that she's changed. We've had another ultrasound last week and it was awesome but I've yet to upload the pictures.