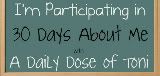 Day 18: Wedding Talk
Today is Day 18 and we are talking about weddings. Share with us about the one you had or the one you dream of.
My wedding day was everything I ever wanted it to be and more...I wouldn't change a thing about it other then burning my dress (don't worry...I'll explain). The night was awesome...When I was 10, my dad told me that the Lord had called him to be a pastor. I personally thought he was kind of crazy because he never talked BUT he's a preacher cause that's what God wants him to do. I've dreamed for years of my daddy walking me up the aisle but then also preforming the ceremony. This dream came true...My dad walked in with my husband and stood up from while all the other wedding party walked in and then he walked down the aisle to get me and when we got to my momma, she stood up and walked the short distance to where my dad turned around and said, 'Who gives this woman?' and my momma said, 'You and I do.' She then took her seat. It was just like I wanted. Also Jamie standing at the end of the aisle was just like I wanted. My dress was just like I wanted (until it was burned, I'm getting there...). And my whole day was just like I had wanted and dreamed it would be. So here are some pictures.........Get ready cause I'm ready to share...
(Above) Left to right...Cindy (Jamie's mom - she's had weight loss surgery since this picture and looks awesome!), Me, and my Momma (Debbie) before the wedding...
(Below) Me and my Daddy before the wedding...this was the only picture that he's not cheesing it out in...haha...We pick on him cause in all the other pictures he's cheesing to the max!
(Above)My cousin Hannah, my flower girl, and I...We were matching this day it was pretty awesome that we found her dress and it was exactly the same as mine!
(Below) Jamie and his boys before the wedding...minus his dad, my dad and the bell ringer (ring boy)...Left to right...Cody (my cousin), Jason (Jamie's brother), Eric (Jamie's friend), and Justin (Jamie's friend)...
(Above) Jamie and I during the ceremony...You can see a little bit of my daddy but you can also see my best friend
Erica
!! :)
(Below) Jamie and I right after the ceremony, I love him! We went back in after all the wedding party was out and instead of the ushers letting the rows out we did :) Instead of having a receiving line we shook each person's hand and let our wedding party off the hook. I loved it!
(Above) Jamie and I dancing our first dance as man and wife...We danced to It Is You I Have Loved by Dana Glover - it's a song off of Shrek (which has meaning between Jamie and I)...
(Below) Jamie's hands on me as we're dancing...I love this picture...
This last picture is a picture of myself and I love it...I think this was probably the best picture that was taken of me all night...And the funny thing is I never remember him taking it!
SO now the dress story...Yes I burned my dress. We had luminaries outside at the church and at the reception...My maid of honor, Emily, was leaving so I decided to walk her out. We stepped outside and moved out from in front of the door and stood talking for a few minutes. Suddenly Emily says Kasey you look hot (it wasn't cold but it was chilly outside) and I said thanks (I thought she was saying that I looked pretty). She said no you're on fire! I said huh? About that time my father-in-law who heard all the commotion as he was walking to his car saw the flame and came and was stomping on my dress as Jamie walks out (our photographer had gone and got him). Jamie's dad, Norman, put the fire out and one of the guest from my wedding pinned my dress up so that I wouldn't have to look at the burn and to this day (over 3 and a half years ago - it'll be 4 in November) I still haven't looked at that burn spot! And then one of my photographers said at least it wasn't your hair by the unity candle...I said I would have taken that as a sign! haha. But it was an awesome night even with the burned dress!