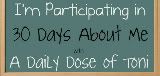 Today is day 23 of the "30 Days About Me" and we are talking YouTube. We are sharing some of our favorite video's from YouTube. Of course I have a few so I'm going to share a few! :) Watch and enjoy!
Disclaimer: I do not search on YouTube for these videos. I hardly ever actually go to the website but when someone shows me one that I enjoy I remember it. These videos are videos that others have shared with me.
(Above) The Swagger Wagon - I posted this video back right after I found out I was pregnant because one of my friends had shared it with me. We have a CR-V and it's going to be our Swagger Wagon...so cute!

(Below) The Ultimate Dog Tease - to funny...the maple kind right?
(Above)So all of the Charlie videos are funny but this is the one with the Choo-Shoe...Probably my favorite out of them all...You need to start with the first one though if you watch them...This is the second one...I had to watch it a few times before I actually laughed...

(Below) This is the 3rd in the Charlie series and I love when they go ring-ring hello...I actually have that as my ringtone! haha...
So silly as all those were, they are my favorites (or some of them) from youtube...What are some of yours?
Now back to reading, since it's the last day of the readathon! :(