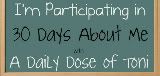 30 Days About Me Day 11: Favorite Band/Artist
This is a loaded question...I have lots of favorite bands and artist...I'm a music lover and majority of the time I'll have music on over watching tv. Especially if I'm crocheting, playing on the computer OR reading. Just in general I have music on, (it drives my husband crazy!). Anyhow, here's the list of favorites...
Tenth Avenue North
DC Talk
Toby Mac
Skillet
Mandisa
Barlow Girl
Superchic(k)
Group 1 Crew
Jars of Clay
Britt Nicole
Flyleaf
Plumb
Point of Grace
That's it...I'll leave you with that short condensed list! :) Enjoy and check some of them out!
So what's your favorite band and/or artist?