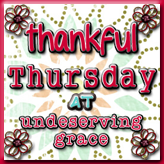 I found this over at
Praises of a Wife and Mommy
and then I went to the source of where she found it at Undeserving Grace. I thought I'd take part in this since it's so important to remember what God will, is and has done for you. So here's my list for Thankful Thursday!
My child - for years I've just wanted to be a Momma and it's all about waiting for God's timing.
My husband - he's pretty amazing and I'm glad God blessed me with him.
The ability to crochet - I may not be able to follow a pattern but I can make up my own and still make a blanket!
The ability to read - LOVE IT!
Hockey - sounds silly but I absolutely love going to an ice hockey game and watching it. I'm a Charlotte Checkers Fan - they are awesome! And I can't wait for the new season to start (which is in October if you are wondering...)
What are you thankful or praising God for this Thursday??