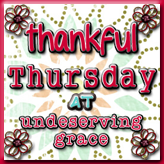 I almost forgot it was Thursday and forgot to post what I'm thankful for but I remembered and here it is...my list for Thankful Thursday! :)
The time I had with my Aunt Susie...I'll never forget going gallivanting with her and my Mawmaw! :) (If you read my previous post you'll see why I'm talking about my Aunt Susie)
My job - although it is literly wearing me out (and I'm not in the classroom much anymore) I'm thankful that I have a job that I like to do!
Money enough to pay the bills...There are people all over the world struggling to pay their bills and thankfully we have enough (and a few mere dollars left) over to pay our bills.
Coupons!! Yep, I'm one of those women in the grocery stores that has a binder with the pages of coupons in them :) And I love being able to save money...
My Bible - of course God's word is pretty awesome in it's self but last year when I (FINALLY) graduated and received my associate degree, my church gave me a Bible and I absolutely love this version and this Bible. You know you always see those people with worn out Bibles (it means they've used it) well, I have a Bible that I want to wear out!
What are you thankful for this Thursday?